Taj - At the Chinese Garden, Singapore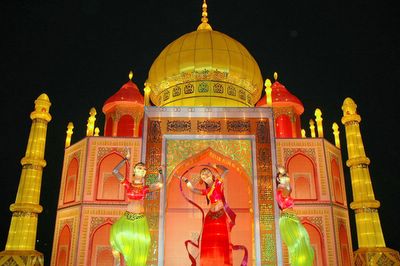 I took this photo at the Chinese garden in Singapore. The theme for the Lantern Festival this year was "seven wonders of the world". This magnificent luminous Taj was part of the Lantern festivities in Singapore.
What is Lantern Festival ?
Mooncake festival, also known as the Lantern Festival or Mid-Autumn Festival, commemorates the 14th-century revolution led by Yuan Zhang who smuggled notes inside moon cakes and used lighted lanterns as a signal to launch the revolt. One of the highlights of the festival is the Moon Cake Fair where hundreds of festive stalls line the streets of Chinatown selling an astonishing variety of moon cakes, traditional paper lanterns, decorations and other delicacies. The Chinese Garden becomes a fairyland of lights and colours for the Lantern Festival.